Physician Impairment
Chapter 7 Audio
WHAT IS PHYSICIAN IMPAIRMENT?
Physician impairment occurs when a personal health problem, mental disorder, or substance-related disorder affects a physician's ability to safely practice medicine.1

WHAT IS
NOT

PHYSICIAN IMPAIRMENT?

The existence of a personal health problem, mental disorder, or substance-related disorder alone is not synonymous with physician impairment.2 If these conditions do not affect an individual's ability to care for patients then, then they are not impairments.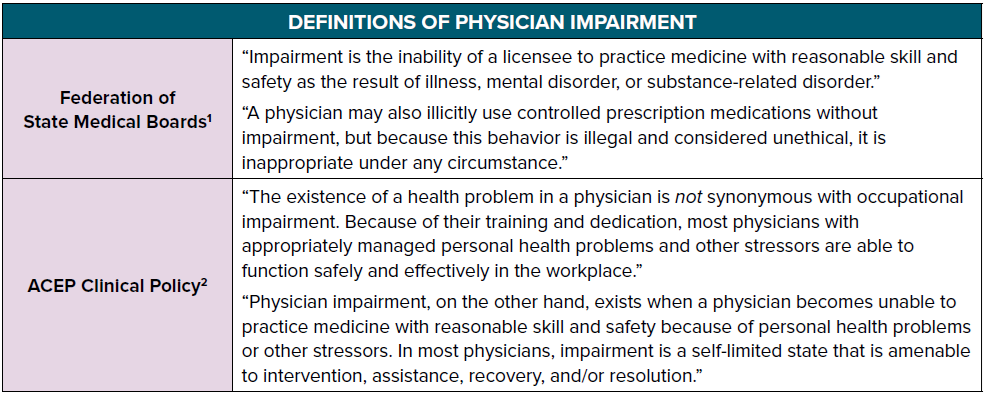 BRIEF CASE STUDIES
John is a senior resident who drinks heavily outside the workplace, particularly after stressful shifts. However, he does not come to shift intoxicated, has never shown up hung-over or tardy, and still provides an excellent standard of care for his patients.
Although drinking excessively is an unhealthy coping mechanism and can lead to several professional and personal problems, it does not in and of itself render a physician impaired, unless it affects his/her ability to care for patients.
Sarah is an attending who was diagnosed with anxiety and depression. She has successfully managed her condition with a combination of therapy and antidepressants. Although she sometimes feels stressed at work or sad after a particularly difficult case, she is able to fulfill her duties without impacting patient care.
The existence of the mental disorder does not automatically render a physician impaired.
Michael is a junior resident who fractured his wrist after a fall. He was prescribed oxycodone after his surgery, and although his wrist is now completely healed he continues to take oxycodone because it helps him feel more relaxed. He never takes it before or during shift, and he is still able to provide excellent patient care.
Using controlled prescription medications even in the absence of impairment is inappropriate for physicians under any circumstances and must be reported because it is illegal and considered unethical.
WHY IS PHYSICIAN IMPAIRMENT AN IMPORTANT TOPIC IN EMERGENCY MEDICINE?
Emergency medicine is the second most commonly affected specialty by physician impairment.3
A combination of tremendous emotional stress, long work hours, regular exposure to trauma, and access to drugs of abuse makes emergency physicians at particularly high risk.4
WHICH EMERGENCY PHYSICIANS ARE MOST AT RISK?
Like the rest of the population, those with a family history of substance abuse disorder or mood disorder are at increased risk.4
The biggest physician-specific risk factor is those who self-treat with prescription medications.5,6
Residents are at particularly high risk. Resident physicians are faced with additional stressors not experienced by physicians who have completed their training which include long work hours, heavy patient loads, and the lack of emotional support. 4
Family/marital problems are often the initial trigger.7
HOW DO I RECOGNIZE IF SOMEONE IS HAVING A PROBLEM?
This is often very difficult because physicians excel at concealing their symptoms. However, any acute change in behavior is concerning.8 This may include:
Unexplained lateness or absence
Absence from professional functions
Carelessness medical decisions, increased errors
Sudden isolation, not responding to pages or calls
Citing unexplained "personal problems" to mask deficits in concentration9
WHAT SHOULD I DO IF I THINK A COLLEAGUE MAY BE IMPAIRED?
You have an obligation to immediately report any good faith suspicion or concern about an impaired, incompetent, or unethical physician.10
Although laws vary state-to-state, almost all guidelines include immediately notifying a supervisor or physician health program.
You can make an anonymous report.
If the colleague is also a close personal friend, you may be tempted to confront them individually. However, an intervention is best done by an experienced team, not a well-meaning colleague. 11
Privately confronting your colleague often results in denial and may result in self-harm.4
WHAT IS A PHYSICIAN HEALTH PROGRAM (PHP)?
Each state has its own PHP that is designed specifically to help impaired physicians recover. The Federation of State Physician Health Programs maintains a list of PHPs by state.12
The role of the PHP is to serve as an advocate for the physician, make recommendations for treatment, and monitor recovery. They have no role in disciplinary or punitive actions.
The PHP will conduct a comprehensive assessment, not to diagnose the physician, but solely to gather information regarding the case. Their assessment includes a team composed of human resources, risk management and representatives from the physician's department.1
After the assessment is complete, the PHP may make recommendations for treatment if deemed necessary. 1
The physician can voluntarily follow these recommendations, keeping their identity anonymous to the public and the state medical board. 1
However, if treatment is recommended and the physician refuses, the PHP is obligated to reported the physician to the state medical board, which can result in serious consequences including but not limited to loss of medical license. 1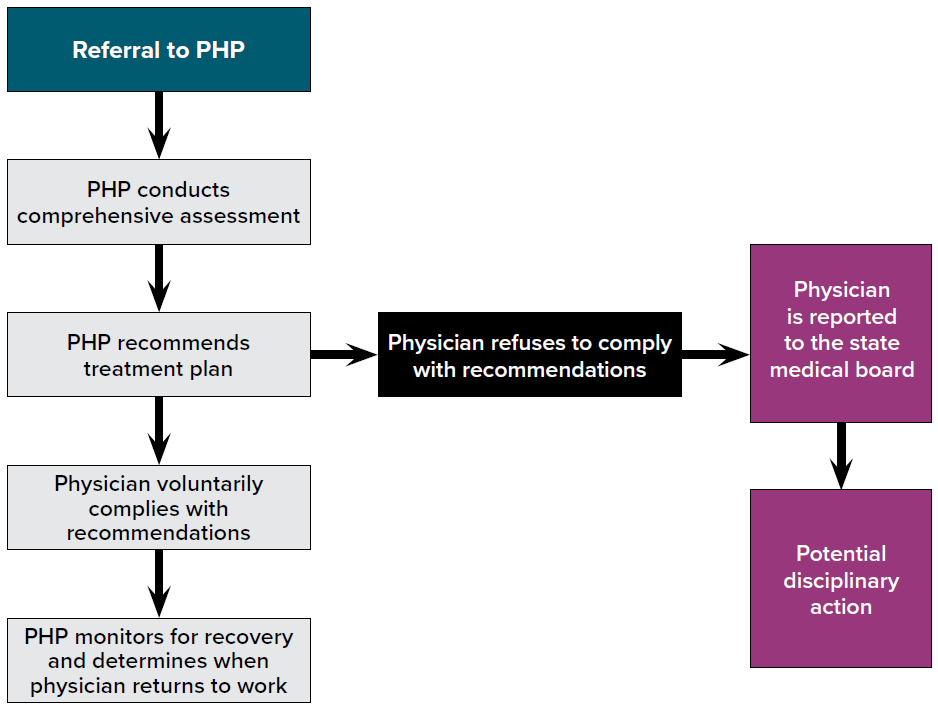 CONCERNS ABOUT REPORTING AN IMPAIRED COLLEAGUE
It is an extremely difficult and often emotionally burdensome to report a physician who is a close personal friend, mentor, supervisor or partner.13 It is normal to feel conflicted when faced with the decision to report a colleague you suspect may be impaired.14 You may feel like you are betraying their trust, you may want to avoid confrontation, or you may be worried about permanently damaging their career.
However, by failing to report an impaired physician and allowing them to continue to practice you place the patients at risk of harm. Additionally, a failure to report may result in professional or legal ramifications. Remember that in making an anonymous referral you are advocating for the well-being of the physician as well as their patients. Anonymous referrals allow you to report concerning behavior without fear of retaliation.
In general, an early referral is associated with improved outcomes for impaired physicians. It results in less serious mistakes, shorter treatment time, increased chance of permanent recovery, and a quicker return to work.15
WHAT SHOULD I DO IF SOMEONE HAS REPORTED ME TO THE PHP?
Work with the PHP! They are there to help ensure you receive proper treatment and make a full recovery. Remember that they are not a disciplinary entity and if you agree to voluntary treatment, your identity may remain anonymous.
THE GOOD NEWS
Several states grant "immunity" that protect physicians who voluntarily seek treatment which means their identities are protected and not reported to state licensing boards.9
Almost all physicians make a full recovery. 9
On average, 75-90% of physicians completing treatment and signing contracts with their state programs achieve long-term abstinence and return to work.16
RESOURCES
REFERENCES
Federation of State Medical Boards. Policy on Physician Impairment. www.fsmb.org. April 2011. Accessed August 29 2017.
Physician Impairment. American College of Emergency Physicians Policy Statement. Ann Emerg Med. 2014;63(4): 502-3.
Boisaubin EV, Levine RE. Identifying and assisting the impaired physician. Am J Med Sci. 2001;322(1):31–36
Johnson B. Dealing with the Impaired Physician. Am Fam Physician. 2009;80(9):1007.
Cicala RS. Substance abuse among physicians: what you need to know. Hosp Physician. 2003;39(7):39–46.
Hughes PH, Brandenburg N, Baldwin DC, et al. Prevalence of substance use among US physicians. JAMA. 1992;267(17):2333-9.
Schorling, J. Physician Impairment due to Substance Abuse Disorders. Medscape. http://www.medscape.com/viewarticle/712291. Published Nov 9, 2009. Accessed August 29, 2017.
Bright RP, Krahn L. Impaired physicians: How to recognize, when to report, and where to refer. Current Psychiatry. 2010;9(6):11-20.
Mossman D. Physician impairment: When should you report? Current Psychiatry. 2011;10(9):67-71.
Virtual Mentor. American Medical Association Code of Medical Ethics' Opinions on Physicians' Health and Conduct. AMA Journal of Ethics. 2011;13(10):700-2.
Angres D, Talbott G, Bettinardi-Angres K. Healing the Healer: The Addicted Physician. Psychosocial Press; 1998.
Federation of State Physician Health Programs. www.fsphp.org/state-programs. Accessed Aug. 29. 2017.
Farber NJ, Giibert SG, Aboff BM, et al. Physicians' willingness to report impaired colleagues. Soc Sci Med. 2005;61(8):1772.
DesRoches CM, Rao SR, Fromson JA, et al. Physicians' perceptions, preparedness for reporting, and experiences related to impaired and incompetent colleagues. JAMA. 2010;304(2):187-93.
DuPont RL, McLellan AT, White WL, et al. Setting the standard for recovery: Physicians' Health Programs. J Subst Abuse Treat. 2009;36(2):159-171.
Reading EG. Nine years experience with chemically dependent physicians: the New Jersey experience. Md Med J. 1992;41(4):325–329.