Ch. 5 - Applying for Away Rotations
The away rotation plays a critical role in the EM residency match. For the medical student, it is an opportunity to explore different geography and learning environments that may vary by region or hospital. For the residency program, the away rotation offers an independent assessment of a student's ability to learn and grow from the feedback they receive, or demonstrate consistency across institutions and different clinical settings.
In the 2018 NRMP Program Director Survey, "Letters of Recommendation in the Specialty" — known in EM as the SLOE (Standardized Letter of Evaluation) — was one of the most commonly cited factors (97% of respondents) in selecting which applicants to interview and had the highest importance rating (4.8 out of 5). As SLOEs can only be obtained through an emergency medicine rotation, it is no surprise that "Audition elective/rotation within your department" and "Away rotation in your specialty at another institution" were among the other most important factors.1
More information about the structure and content of the SLOE can be found in Chapter 6: Crush Your EM Clerkships, Secure Your SLOEs.
How Many Away Rotations Do I Need?
To be a competitive EM applicant, aim to complete 2 EM rotations and obtain 2 SLOEs. Typically, this will be 1 home rotation and 1 away rotation. For students without a home EM rotation, this will be 2 away rotations at different institutions. Students should have at least 1, but ideally 2, SLOE(s) submitted in time for ERAS Application opening in mid-September to be granted interview offers. If you're unable to complete 2 rotations by this time, the 2 SLOEs should be submitted by the time you interview or as soon as possible thereafter to assist in rank list formation.
Program directors place high value on away rotation evaluations. Two 2018 surveys showed that performance on an away rotation is one of the most influential factors used by program directors in interview selection decisions.1,2 On the other hand, in a 2016 survey, 27% of PDs reported that it was "critical" for students to complete a home rotation, even if they had no interest in attending residency there.3 This suggests that students, barring significant conflict, should still secure their home EM rotation first.
In regard to number of rotations needed to interview, 2 studies found 80–90% of programs require at least 1 EM rotation or SLOE to grant an interview. In addition, the studies show 20–45% of programs require 2 SLOEs to grant an interview.2-4 This variance may be due to differences in respondents and wording. Nonetheless, it shows the importance of having 2 SLOEs to make a competitive application. It is exceedingly rare for a program to require more than 2 SLOEs. Of note, this data is not meant to apply to EM subspecialty SLOEs like ultrasound or pediatric emergency medicine.
Based on this, we recommend 2 SLOEs from separate institutions to maximize your competitiveness. If you can only complete 1 EM rotation but are otherwise qualified, it may hamper but not bar you from matching. In this case, a SLOE from your home institution, as long as it has an accredited EM residency program, may be more important. There is rarely a need for a third SLOE and rotation, unless your advisor feels it's needed to strengthen your application.
Osteopathic Students: For an osteopathic applicant with similar competitiveness to the average allopathic applicant, 79% of residency leadership respondents to a recent survey recommended 2 SLOEs and 11% recommended submitting 3 or more.7
IMG Students: For an IMG applicant with similar competitiveness to the average allopathic applicant, 63% of residency program leadership respondents to a recent survey recommend 2 SLOEs whereas 19% recommend 3 or more.7
Latecomers: Very few programs will extend an interview invitation with no SLOEs (only 8 on EMRA Match in 2018), but 80% report extending offers with 1 SLOE.5 Prioritize getting a SLOE as early as possible after you choose EM. If you have a later letter, make sure to notify the residency programs when it is uploaded.
In 2018, the first of this series of questions on the SLOE is: "Commitment to EM. Has carefully thought out career choice." Be sure to convey to your SLOE writers how you have thought out your choice and how committed you are to EM even though you may have chosen the specialty later than others.
At-Risk Candidates: Having strong clinical skills but difficulty translating this knowledge in testing situations is a familiar struggle. Programs are more likely to consider students with weaker test scores if they have established a consistent pattern of strong clinical performance. Seeking out clerkships that do not have testing requirements as a criterion for grading may also be beneficial for these students.
You are not required to submit a SLOE from every EM rotation you do. If you suspect that your SLOE may not be very supportive, additional or alternative letters are often the best way to mitigate this. If you completed an EM rotation and did not submit a SLOE from the rotation, be prepared to discuss why this might be the case in your interviews.
Where Do I Want to Rotate?
Consider a few strategies when deciding where to rotate: targeted, exploratory, or practical.
In the targeted approach, you can aim for a specific program or region of the country to explore "personal fit" and to demonstrate interest. This is the ideal approach for many, as geography and "fit" have been shown to be among the most important factors in applicants in choosing an emergency medicine program.5 Regional competitiveness can vary based on the perceived desirability and concentration of residency programs. In a more competitive region, obtaining a SLOE from a program there may be advantageous - even if you do not "honor" — as programs from the same region tend to be familiar with each other's assessment styles and thereby confident in interpreting each other's SLOEs. Many programs also prefer a "known" candidate, and this should offset the fear that you might perform poorly on an audition rotation at a specific institution.
An exploratory strategy may be an option if you're less geographically inclined. Rotating at a different region adds perspective and opens opportunities during the application season. You should also consider varying clinical environments. Academic, county, community, urban, and regional are a few of the characterizations a hospital might have, and they impact how learning is accomplished and patient care is practiced. Exploring different practice environments will help you be more prepared come interview season.
Like interviews, away rotations can be expensive and inconvenient. As a practical strategy, we strongly advise you to consider cost of living, housing, transportation, and your academic schedule when planning for aways. It is reasonable to choose an away rotation in the same region to contain cost. To successfully match in EM, your performance and professionalism are more important than where you rotated.
Osteopathic Students: Certain states have been more "friendly" to osteopathic applicants in the past. See Chapter 8: Understanding Your Competitiveness for information on historical geographic match locations of DO applicants. EMRA Match for Clerkships reports that 93% of clerkship programs accept osteopathic students.4
IMG Students: Only 32% of clerkships listed in EMRA Match report accepting international students.4 Students from international medical schools may benefit from seeking the advice of graduates from their medical schools that matched into EM to inquire where they completed their EM rotations.
Military Match: Students should do at least 1 of their rotations at a military EM site.
Couples Match: Consider away rotations in cities where both you and your partner are interested in matching. Check with your mentor — depending on your specific application profile, you may need to do 2 away rotations to maximize your chances for success in the couples match. This is particularly true if your partner is applying to a competitive specialty.
How Do I Find Rotations?
Several resources exist to help you find available away rotations. Most residencies will have a clerkship, and you can find information on the residency website. The VSAS/VSLO site is a portal for away and global rotations in all specialties. Specific to EM, the EMRA Match tool allows applicants to browse, search, and filter residency programs (240 listed for 2018) and clerkships (145 listed for 2018). Clerkship filters include:
Participation in VSAS
Step 1/COMLEX Required
Rotation Types
Flexible Rotation Dates
Interview Policy
SLOE Authorship
Consider DO Students
Consider IMG Students
Housing Availability
Vehicle Recommended
SAEM also has a Clerkship Directory with a filter tool based on several learning environment factors (region, hospital setting, trauma designation, and number of residents per year). If you're interested in a specific institution, check the program's website directly.
More than 40 departments or institutions offer stipends to students from underrepresented groups to rotate through their diversity externship scholarships. These can also be found through EMRA or SAEM.
Osteopathic Students: With fewer than one-third of osteopathic medical schools having affiliated residency programs, DO students must apply smart and realistically to obtain 2 early academic rotations to provide them with competitive SLOEs.
IMG Students: International medical graduates similarly will not have a home EM rotation and will need to obtain 2–3 SLOEs to be considered as a potential candidate.
When Do I Apply? When Do I Rotate?
The majority of institutions begin accepting applications in March or April, with a small minority of programs opening before March.6 The timing varies by institution (see Figure 5.2). This does not account for preparation time, so students should plan accordingly. Factors that complicate planning your away rotations include home institution core rotations and other schedule requirements that often extend into mid- to late summer as well as inflexibility of the away rotation schedule. Only 3 out of every 10 clerkships listed in EMRA Match advertise flexible rotation dates.4
FIGURE 5.2. Months that VSAS/VSLO applications are accepted and processed as reported by clerkship directors on EMRA Match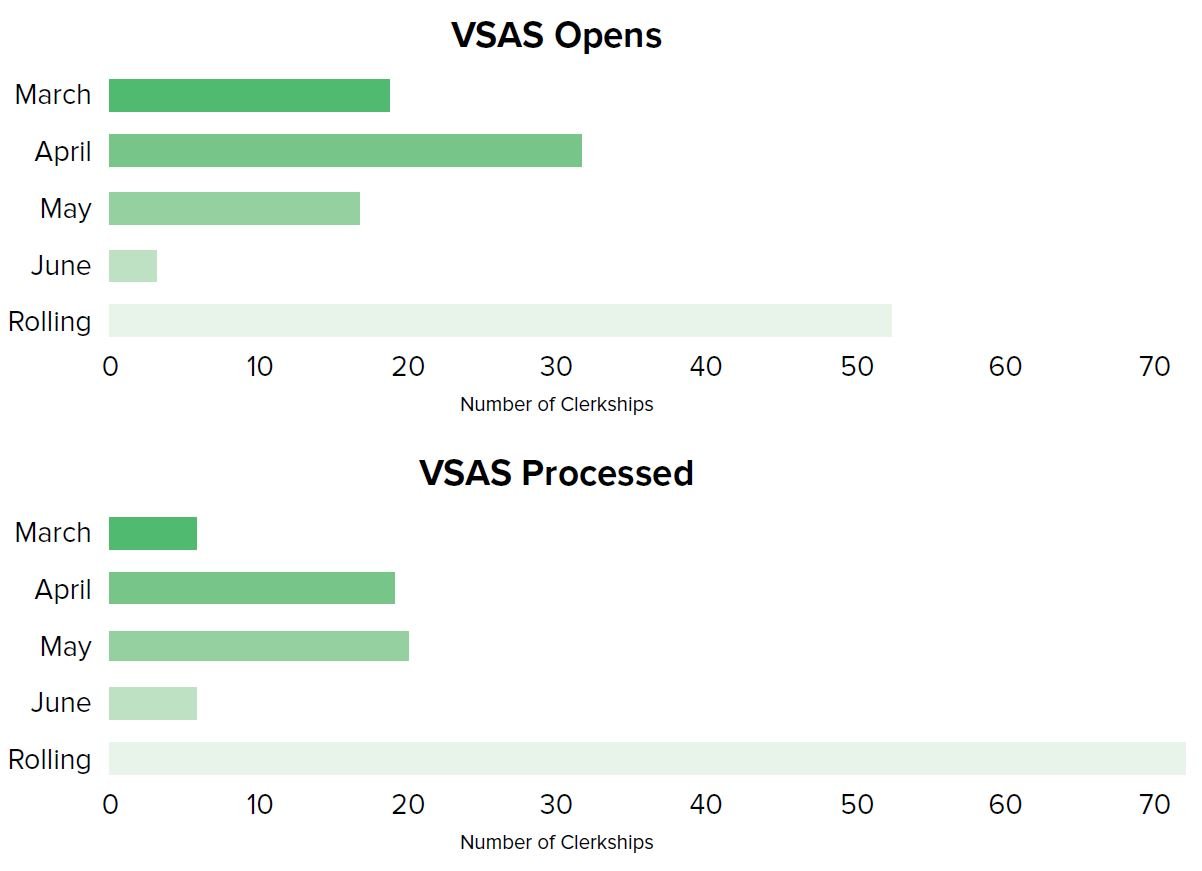 Students usually complete their home and away rotations in the summer, but many students will not be able to complete their second rotation, usually away, until fall or sometimes winter. As previously mentioned, up to 45% of programs may require 2 submitted SLOEs to grant an interview — putting you at a disadvantage if your rotations are not completed.2-4 This does not bar any student from matching into EM, however, and we strongly recommend these students to seek advice and to plan ahead. In general, students should have a minimum of 1 SLOE submitted by the time of ERAS Application opening in mid-September to qualify for receiving interview offers.
Many clerkships also process applications on a rolling basis and other students may change their schedule, creating availability as the season progresses.
Military Match: Military rotations are usually set up in January by contacting the program directly via email. Contacts are updated on the MODS (Medical Operational Data System) website.
Latecomers: Consider following up with programs that may not have offered a position initially as open spots may come available with late cancellations from other students.
How Do I Apply for Away Rotations?
Most applications can be completed through the AAMC's VSLO website and VSAS system. Approximately 80% of clerkships on EMRA Match participate in VSAS. Visit the VSLO website to create an account and receive specific instructions regarding the application process.
Application requirements may vary slightly across programs. In general, materials you should gather before applications open include:
An updated CV
Proof of USMLE Step 1 score
A letter of recommendation from an EM advisor*
Proof of positive vaccine titer response
Immunization record
Proof of BLS and/or ACLS certification
A certified background check and drug screen**
Professional photograph
N95 Respirator fitting
Personal statement/letter of intent
This list is by no means exhaustive, as some programs require institution-specific paperwork or training.
*Some rotations will ask for a letter of recommendation from an EM advisor. Do not stress out if you have not worked in the ED yet — this does not need to be someone you've worked with, just someone who knows you're serious about pursuing a residency in emergency medicine.
**Some institutions, but not all, will ask for a new, certified background check and/or a drug screen. As they are not universally required, you should review individual requirements specified by your desired institutions.
IMG Students: International students will also want to consider their visa status when applying to clerkships. International students can use EMRA Match to find clerkships that are open to IMGs and residency programs that will sponsor visas. The ACEP International Section also offers a Rotation and Observation Database.
Some of the proposed materials are more difficult to plan for submission than others. For instance, not every applicant will have taken the USMLE Step 1 by the time VSAS opens. At present, an estimated 85–90% of externship programs require a passing Step 1 score with 37%–43% accepting COMLEX as an alternative.4,6 To not be limited in options, it is worth considering taking Step 1 to have a score report by the time VSAS opens.
Clerkship Application & Vaccination Timeline
Proof of positive vaccine titer response is another component that requires advanced planning. Timing is important here as any negative titer results will require a booster and a designated waiting period for antibody response. Be prepared! Do not let this requirement delay you from submitting applications. While most clerkships make use of the AAMC Standardized Immunization Form, which only requires Hepatitis B titers, some institutions that do not use this form may require MMR or varicella titers as well. To be safe, having all five drawn is advantageous, but that needs to be considered against your financial situation. Other testing and vaccinations to consider include: being up-to-date on the flu shot and having documentation of recent two-step tuberculin skin test (aka PPD) or QuantiFERON Gold test.
IMG Students: A small population of students may have received the Bacille Calmette-Guerin (BCG) vaccine outside of the United States and subsequently tested positive on their PPD. For healthy, asymptomatic students, a proof of Isoniazid (INH) completion and most recent normal chest X-ray report should suffice. However, in rare instances, these students may be asked to undergo additional testing.
A proposed timeline for gathering documents and having titers drawn is listed. This will allow you to apply to a few programs that begin accepting applications in February. Most programs may not accept externship applications until March or April, however, so it is important to visit VSAS and plan on an individual basis.
November
Get titers drawn. If any are negative, immediately get a booster. Titers typically may not be re-drawn for 6–8 weeks.
December
Update your CV and choose an appropriate professional photograph
Gather other previously mentioned documents as time permits
Visit program websites to research programs
Ask an EM advisor for a letter of recommendation, if required by desired
January
Complete background check, if necessary
Establish and execute a firm plan for up-to-date TB testing
Have titers redrawn (if necessary and not already completed)
February–April
Write your Statement of Interest for the programs that require it
Submit VSAS when applications open institution(s)
Not all clerkship programs use VSAS, which attempts to standardize the process, but will in general have similar requirements. Find specific instructions at individual institutional websites outside of VSAS. This extra step might make some non-VSAS clerkships "less competitive" and easier to secure a rotation from.
Latecomers: Looking at programs outside of the VSAS in effort to secure a rotation will likely increase your chances of success.
How Do I Get Accepted for an Away Rotation?
Expert opinion recommends that an average student apply to 5–7 institutions to receive 1–2 invites. Consult with your advisor to determine the right number of applications for your personal situation and goals.
A Step 1 score can be an important factor influencing your chance of being accepted for an away rotation. In a 2018 survey of clerkship directors, 90% of respondents reported requiring at least a passing score on USMLE Step 1, and among these, 45% use a mean Step 1 score of 213 as a screening cutoff.6 These numbers are similar to Step 1 score utilization for away rotations and interview selection as reported on EMRA Match.4 Programs included in EMRA Match for Clerkships declare whether they require USMLE Step 1, with or without a cutoff score. If you have a lower Step 1 score, you may benefit from targeting programs that report not having a cutoff.
In general, clerkship directors value genuine student interest in matching to their program or region. In the current application environment, however, common sentiment is that student interest is hard to gauge. If a program requests a statement of interest, this can be a great opportunity to communicate your particular interest in the region and in the program. Local ties, for example, are valuable to mention.
Personal, direct communication to the clerkship director or coordinator, beyond the letter of interest requested by the application, may be helpful in some cases but detrimental if overused. Reach out through direct communication judiciously, reserving only for a few institutions (maximum of 3) in which you are most interested.
Your home institution can also help you secure an away rotation, if you communicate specific interest. It is acceptable to want to leave your home institution for residency training. Many programs, especially those with a large cohort of EM-bound medical students, will appreciate that disclosure. In that case, your home institution may have faculty connections to a particular region who can help you secure a rotation. Again, overuse of this strategy will also dilute its effect.
Latecomers: Contact your home EM advisor directly, as they can be an invaluable resource of experience and connections in your effort to complete application requirements.
Attendance at conferences and other networking opportunities may be helpful. At national conferences such as ACEP's Scientific Assembly, EMRA hosts a Medical Student Forum and Residency Fair. This event occurs in October, so attendees will have enough lead time ahead of VSAS application to establish a network, follow up, and apply. You can also learn more about programs and make connections at the fair, but it is important to recognize attendance does not guarantee an away rotation. This is especially true for students attempting to secure a rotation or interview at more competitive institutions.
Troubleshooting & Tips
How do I deal with conflicting home requirements and away rotation schedules?
Address it early with the dean of your home institution or contact the away rotation clerkship director. Some institutions will make exceptions or help you troubleshoot. Asking for an exception implies genuine interest. Reserve this only for rotations you would almost certainly accept if offered.
I do not have EM faculty at my institution. Where can I find individualized advice?
I couldn't secure an away rotation at a program I was very interested in. How can I still show interest and learn more about the program?
Often, institutions will offer away rotations in a subspecialty area of emergency medicine. A letter from these rotations is less influential than an adult EM course, but it may resonate with that specific institution — and you will gain valuable knowledge, including a new skill set and familiarity with that program. Common subspecialty rotations include EMS, Global Health, Pediatric EM, Research, Toxicology, Ultrasound, and Wilderness Medicine. These subspecialty rotations can be identified using the filter included in EMRA Match for Clerkships.
What if I don't get or can't do an away rotation?
While away rotations have many practical benefits, they also pose difficult hardships and just may not be feasible for some students. Pregnancy and parenthood are 2 such situations that may constrain the ability of both partners to travel far from home. Family illness and caregiver needs may affect others. In general, EM programs are sensitive to work-life balance and personal wellness. Nevertheless, these situations require a thoughtful approach to communication as well as securing a second letter from your home institution, if possible.
If you're in this situation, it's most important to have a trusted, experienced advisor help you develop a plan. Complete an additional EM subspecialty elective at your home institution. The ideal elective would give you an opportunity to demonstrate your clinical skills to EM faculty who could then write an additional SLOE letter. Finally, you should thoughtfully, deliberately explain the reason for being unable to complete a traditional away rotation; that communication should be part of the plan you develop with your advisor.
I accepted an away rotation, but then I received an invitation from my top-choice program. Is it OK for me to cancel my original rotation?
Be very cautious when cancelling an away rotation. If the rotation is several months out such that the program can accommodate another student, then it's typically understandable and should be accompanied by polite and honest communication.
Last-minute cancellations of away rotations are strongly discouraged and will be frowned upon — with the exception, of course, for personal emergencies.
With rare exception, EM candidates should complete 2 EM rotations to acquire a total of 2 SLOEs. If available, 1 of your 2 rotations should be a home rotation.
You should have a minimum of 1 SLOE by the time residency programs are able to view applications in ERAS (mid-September) to be considered for interview invitations. Having 2 SLOEs submitted by this time will maximize your competitiveness.
It is highly unusual for an applicant to require 3 SLOEs to match, and it does not necessarily make you more competitive. In fact, doing extra away rotations may be harmful to your colleagues who are having difficulty obtaining their first away rotation.
An away rotation should be affiliated with an EM residency program so that your SLOE can be completed by an EM faculty member.
VSAS is the standard way to secure away rotations, but there are other ways that will require more personal inquiry. In general, current expert opinion suggests you should apply to 5–7 clerkships to get 1–2 invites. Consult with an advisor to confirm an application strategy that supports your personal situation.