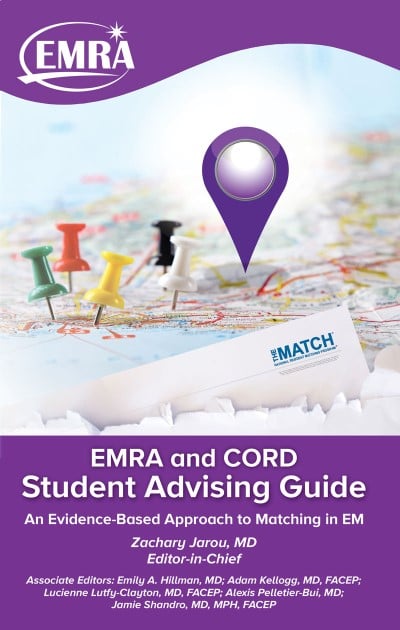 EMRA and CORD
Student Advising Guide
Editor-In-Chief
Zachary Jarou, MD
University of Chicago
Associate Editors
Emily A. Hillman, MD
University of Missouri-Kansas City/Truman Medical Center
Adam Kellogg, MD, FACEP
University of Massachusetts Medical School — Baystate Health
Lucienne Lutfy-Clayton, MD, FACEP
University of Massachusetts Medical School — Baystate Health
Alexis Pelletier-Bui, MD
Cooper Medical School of Rowan University
Jamie Shandro, MD, MPH, FACEP
University of Washington School of Medicine
---
EMRA Board of Directors 2018-2019
Omar Maniya, MD, MBA | President
Hannah Hughes, MD, MBA | President-Elect
Zach Jarou, MD | Immediate Past President
Tommy Eales, DO | Secretary/Editor, EM Resident
Nathan Vafaie, MD, MBA | Speaker of the Council
Karina Sanchez, MD | Vice-Speaker of the Council
Erik Blutinger, MD, MSc | Resident Representative to ACEP
Sara Paradise, MD | Director of Education
Angela Cai, MD, MBA | Director of Health Policy
Greg Tanquary, DO, MBA | Director of Membership
Nick Salerno, MD | Director of Technology
Eric McDonald, MD | ACGME RC-EM Liaison
Scott Pasichow, MD, MPH | EMRA Representative to AMA
Corey McNeilly | Medical Student Council Chair
EMRA Staff
Cathey B. Wise, CAE | Executive Director
Valerie Hunt | Managing Editor
---
Publisher
Copyright 2019
Emergency Medicine Residents' Association
4950 W. Royal Lane | Irving, TX 75063
972.550.0920 | emra.org
ISBN 978-1-929854-52-3
4950 W. Royal Lane, Irving, TX 75063
972.550.0920, emra.org


All rights reserved. This book is protected by copyright. No part of this book may be reproduced in any form or by any means without written permission from the copyright owner.
Disclaimer
This book is intended as a general guide only. While the editors have taken reasonable measures to ensure the accuracy of all information presented herein, the user is encouraged to consult other resources when necessary. The publisher, authors, editors, and sponsoring organizations specifically disclaim any liability for omissions or errors found in this handbook or for appropriate use.
Please be aware: We have cited NRMP Charting Outcomes in multiple chapters, along with AAMC resources. NRMP, AAMC, and the authors have attempted to produce unbiased and, where available, evidence-based information and advice regarding matching and competitiveness. However, there are no perfect studies available to give us the best evidence. We have used the best information available, and caveats are present. In this guide, we reference matched and unmatched candidates; it should be noted that a matched candidate indicates a candidate who matched into a preferred specialty. An unmatched candidate did not match into the preferred specialty, but did not necessarily not match into residency at all.