Nathan Dreyfus, MSIV, University of Vermont Larner College of Medicine
EMRA MSC Northeast 1 Representative 2019-20
Sarah Schlein, MD FACEP FAWM
Assistant Professor of Emergency Medicine, University of Vermont Larner College of Medicine
Mount Mansfield was shrouded in rain clouds and a cool drizzle fell steadily as the first carloads of emergency medicine (EM) residents from the University of Vermont (UVM) and Dartmouth-Hitchcock Medical Center (DHMC) wound their way up the mountain road into Underhill State Park: their classroom for the day. It was an early morning in July, but light jackets were ubiquitous as faculty members and residents strung tarps overhead between a lean-to and surrounding trees – a small refuge for coffee, bagels, and introductions.
The rainy morning marked the start of the first annual UVM/DHMC Search and Rescue (SAR) day. The event, spearheaded by UVM emergency physician Dr. Sarah Schlein, also represents the first ever joint activity held between the EM residency at DHMC and the new EM program at UVM. UVM's first class of interns had arrived in Burlington, Vermont just two weeks prior.
After introductions, the residents were split up into smaller groups which each rotated through a series of educational sessions. Some sessions focused on important concepts, such as Introduction to SAR Operations, Incident Command structure, and the unique mindset of patient assessment in the wilderness setting. Other lessons were purely hands-on: how to safely move a patient with a possible spinal injury across difficult terrain; how to build improvised splints for various injuries; how to assemble the backcountry litter and secure a patient inside. After each hands-on lesson, the residents were given time to practice the skill with observation and feedback from instructors.
The group of faculty for the day was notable for its extensive experience and wide range of backgrounds: past and current positions held by the instructors included Vermont State Search and Rescue Coordinator, Director of Operations for Camels Hump Backcountry Rescue (a local volunteer SAR agency), Vermont state Healthcare Preparedness Coordinator, Emergency Management Director at a community hospital, Solo Wilderness Medicine Instructor, Paramedic, National Ski Patroller, Expedition Medic, and Backcountry Ranger, to name a few. During lunch, DHMC emergency physician Dr. Nicholas Weinberg shared incredible stories and a slideshow from his time working with the Mt. Denali SAR team.
As the slideshow concluded, faculty announced a report of an injured hiker on the mountain, located an unknown distance up a nearby trail. This marked the start of a full simulated SAR scenario, allowing the residents the opportunity to consolidate and put into practice the concepts and skills learned in the morning. The residents selected an Incident Commander, who would remain at the base and oversee the rescue. Neil Van Dyke, Vermont State Police Search and Rescue Coordinator, was on hand to share his decades of SAR experience and ensure the day closely replicated a realistic VT SAR operation. Neil was careful to ensure that the residents were taking the lead. Soon enough, a hasty team was selected and started up the trail, carrying GPS, radios, and the essential equipment for stabilizing a patient and protecting them from the elements. As with actual rescues, the hasty team was followed by subsequent teams of rescuers who brought heavier equipment items (such as a litter and wheel) and, crucially, the necessary number of rescuers to safely stage a carry-out extraction.
The trail was rocky and slick, and the patient (a volunteer patient actor) was found with uncontrolled bleeding in uneven terrain and among thick vegetation. In addition to addressing the patient's life-threatening injuries with a tourniquet, scene management also required consoling the patient's agitated partner and a careful terrain assessment. Faculty observed during the scenario from a short distance to ensure safety and proper use of equipment but were otherwise not involved with the rescue operation – the resident-rescuers were left to encounter problems and develop solutions as a group.
Eventually, the patient was splinted, loaded and secured into the litter. Reports and instructions were exchanged between the team on scene and the Incident Commander downhill. A few tense minutes passed as the residents navigated some steep and uneven sections of rocky trail with the loaded stretcher, which required several litter passes and a great deal of communication. A couple of hours after the initial report of the injured hiker, the resident-rescuers emerged from the woods and back into the group site, moving the litter with notably improved proficiency.
The resident rescue team, faculty, and mock patients gathered for a debrief immediately following the conclusion of the rescue. Themes of communication, team roles and hard decisions such as spinal motion restriction arose as the group focused on the take-home lessons of the day. As early evening mist rolled in, faculty brought out pies to share and excited conversations about future careers in wilderness medicine echoed around the lean-to.
Throughout the day, teaching was punctuated with discussion of the role and utility of wilderness medicine (WM) training in enhancing the standard emergency medicine curriculum. Faculty members also shared how they had personally incorporated WM into their individual careers. For Dr. Sarah Crockett, an emergency physician at DHMC, WM has been a source of inspiration since her undergraduate days as a trip leader for the Dartmouth Outing Club and a member of the college's student SAR organization. She later helped to develop and teach AWLS curricula as a medical student at Utah and as a resident in Ohio. She now directs DHMC's medical student elective in wilderness medicine. Dr. Weinberg, who had worked previously as a climbing guide, became motivated to pursue medicine by way of WM, following a climbing accident in which his climbing partner was seriously injured. In addition to assignments with Mt. Denali SAR, Dr. Weinberg has worked as a doctor with the Himalayan Rescue Association in the Mt. Everest area, as a ship doctor for a tall ship sailing the Indian Ocean, and he has helped to teach WM CME courses in Norway, among other experiences. For Dr. Schlein, WM also played a key role in her career path, after she received some WM training as a trail crew leader working in the Pacific Northwest backcountry after college, an experience that helped inspire her decision to pursue medicine. Nowadays, in addition to her active development of WM education at UVM, Dr. Schlein has been an active member of the Camels Hump Backcountry Rescue Team since 2016 and drafted the state of Vermont's backcountry protocols to better define a rescue team's scope of practice in the wilderness setting.
Through these discussions, the residents walked away with a great deal of career inspiration, in addition to enjoying a fun day outdoors getting to know their faculty and peers. They also received a valuable, hands-on learning experience that promoted communication and problem-solving, and resulted in increased confidence and understanding of medicine in the wild. Based upon a later survey, the residents at each program reported that they enjoyed the SAR day, felt that it had significantly increased their knowledge of WM and SAR operations, and strongly recommended that it continue to be held for future classes of residents.
This event and its success are representative of ongoing growth of the WM programs at both UVM and Dartmouth. As this article was submitted for publication, UVM's second annual wilderness medicine elective for third- and fourth-year medical students was in full swing. This course was designed and directed by Dr. Schlein, and with the start of the new EM residency this year, Dr. Schlein and other faculty members have set their eyes on the goal of an eventual wilderness medicine fellowship at UVM. Dr. Schlein also helped to teach DHMC's first medical student elective in WM this year, directed by Dr. Sarah Crockett, who will be directing the new WM fellowship at DHMC; the program is set to start training its first fellow in 2020, having completed the SAEM certification process this year. UVM faculty have also worked with the planning committee of the Wilderness Medical Society (WMS) to help bring a national WMS conference to Stowe, VT earlier this month – another sign of the northeast region's increasing standing within the field of WM. The first annual meeting of the Northeast Consortium of Wilderness and Austere Medicine is in the works as well, which will bring together programs from Maine to upstate New York.
For students and residents at UVM and DHMC, these exciting developments stand to enrich their education: in the words of Dr. Crockett, WM "provides an excellent setting for developing skills in leadership and emergency care...if you can manage the scene and patient in a backcountry emergency – create order out of chaos, basically – this will absolutely transfer to the trauma bay, a code, or other challenging scenarios in the hospital." Dr. Schlein echoed this sentiment and spoke of the power WM education has to foster interpersonal connection and renewed inspiration: "There is something about the wilderness setting that brings out honesty of our limitations, authenticity in ourselves, and meaningful connection to others...It is inspiring to take highly motivated and committed learners out of the hospital hierarchy and watch them find their voice through teamwork and problem solving. The learning goes beyond the content itself. There is something about the wilderness that reminds us who we are and why we went into medicine in the first place."
Related Content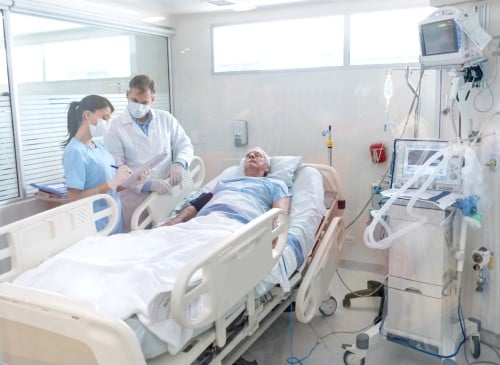 Jan 26, 2023
Tips for Palliative Medicine Consults in the ED
Although most evaluations and interventions focus on providing life-sustaining interventions in the ED, emergency physicians must also be prepared to provide proper care to individuals who may not benefit from the introduction of life-sustaining interventions. Emergency physicians must have knowledge of palliative care and must be able to perform palliative care when indicated. In specific situations, a palliative care consultation may be helpful in initiating and coordinating care for patients who would benefit.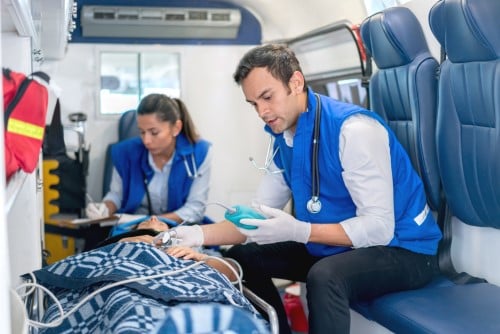 Jan 26, 2023
Case Series: Prehospital POCUS Aides in Shortness of Breath Diagnosis
Shortness of breath is one of the most common EMS chief complaints, with the majority of our population endorsing a history of COPD, CHF, or both. Prehospital POCUS is a quick, non-invasive, and effective diagnostic option with potential benefits and limited downside. This case series demonstrates the different benefits of prehospital POCUS performed by our clinicians during a ride-along.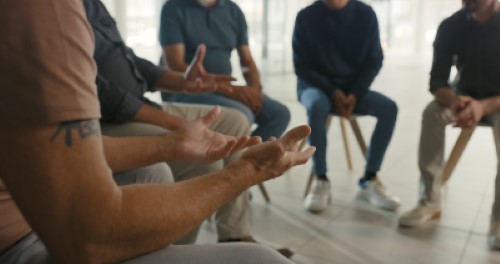 Jan 23, 2023
The Betty Bubble: A Week at the Hazelden Betty Ford Addiction Treatment Center
Addiction is a disease that responds to treatment. We must offer services to all patients no matter how many times it takes them to accept help. Who's to say that attempt number 30 isn't the one that will finally work? In the ED, we see only a snapshot of one's addiction, but it is important to remember that each patient has an entire story, and we can help change the ending.