After decades of learning and training, you now have a career in emergency medicine. Whether you're a recent grad or an experienced physician, we hope EMRA served as a valuable resource by providing go-to on-shift resources and great benefits during your training.
But your EMRA journey is not over!
You can join as an alumni member for only $109 / year.
As an EMRA new alumni member, you will receive another famous EMRA new member kit complete with many of our best clinical resources. This includes our updated EMRA Antibiotic Guide, our updated PressorDex: Critical Care Medication Guide, and a range of other clinical resources that reflect your years of experience. New Alumni members receive more than $250 in clinical resources.

Renewing Alumni members receive that year's newest clinical resources, plus deep discounts on favorite products like EMedHome, EB Medicine, Hippo Education products, and Rosh Review.

So your Alumni membership pays for itself -- and then some! And you enjoy the satisfaction of knowing your Alumni membership supports emergency physicians in training. What a great way to pay it forward!
Add Alumni Membership
Saving $$$
Looking to brush up a bit with Board Review or stay current with podcasts such as EM:RAP? You receive alumni discounts from HippoEM, Rosh Review, and EM:RAP (your first year after residency).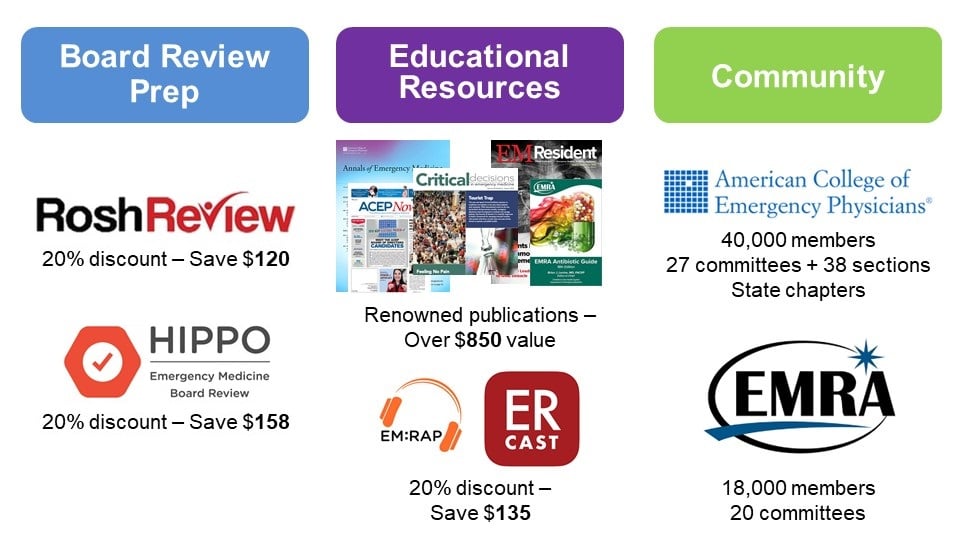 Developing Your Network
Emergency medicine is an incredibly small community, and we are your people! As an attending physician, you have the opportunity to mentor residents, meet rising stars in the field, and get your name out there amongst other faculty. This is a great way to develop your reputation and your brand within emergency medicine. It also affords you the opportunity to develop niche interests shared by other emergency doctors or to simply make a great group of friends.

Your dues will also support EMRA's mission of helping our members become the best doctors they can be, the best leaders they can be, and helping EM become the best specialty we can be!
In a nutshell, whether you are a newly-minted attending physician or you have a number of years under your belt, we hope you will sign up for EMRA alumni membership! For only $109 annually, you receive the amazing benefits EMRA builds for you, while supporting your EMRA Family!
You are the reason EMRA is what it is today, and we hope you will continue to help shape the face of emergency medicine for years to come.
P.S. EMRA enjoys a great partnership with ACEP. Joint membershiop brings you a host of other benefits including free Annals of Emergency Medicine & ACEPNow, plus discounts on ERCast, Visual Dx, SonoSim, Evidence Care and more…
If your ACEP and EMRA dues cycle is not aligned, no worries. You can pay prorated EMRA dues until you renew your ACEP membership. Then, you can easily renew both memberships at the same time.