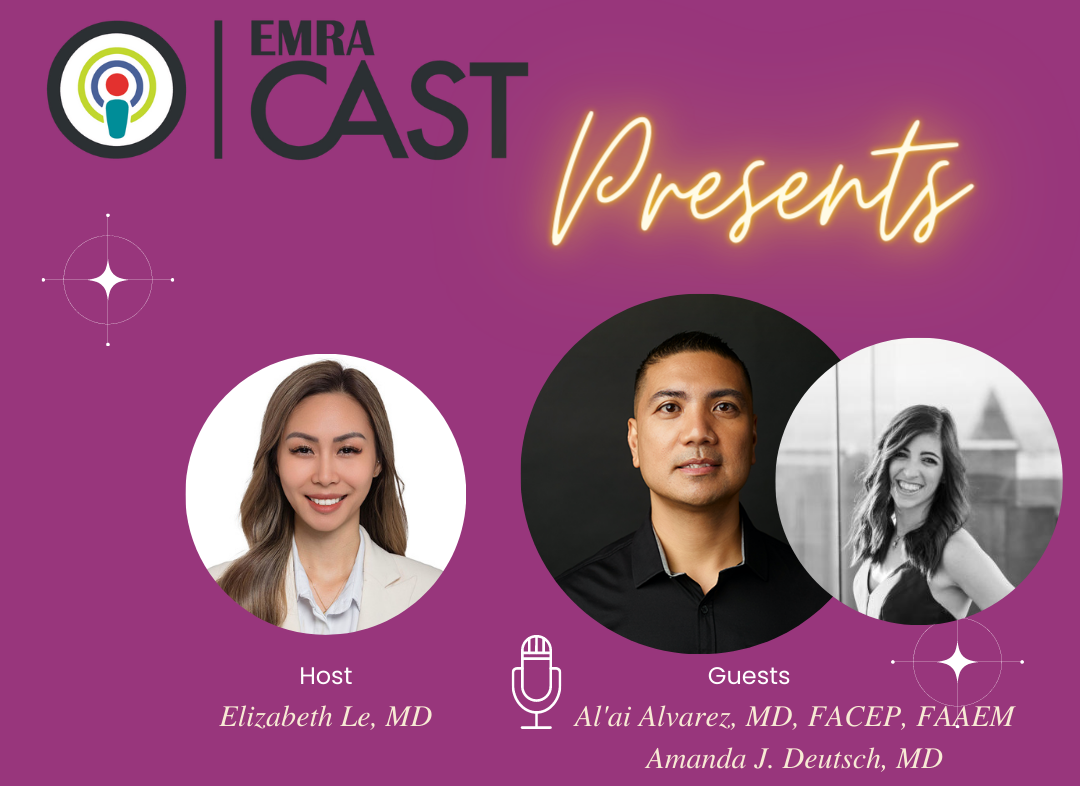 Stop the Stigma: Part 2
Aug. 1, 2023
The practice of medicine, especially emergency medicine, can be emotionally exhausting, even when things go well. Burnout is on the rise, and seeking help can be hard. Learn how to overcome the obstacles in your journey to well-being with these tips from Dr. Amanda Deutsch and Dr. aL'Ai Alvarez, shared by EMRA*Cast host Lizzii Le, MD.
Guests
Al'ai Alvarez, MD, FACEP, FAAEM
Clinical Associate Professor, EM
Director of Wellbeing
Co-Director of Human Potential Team
Director, Emergency Medicine Wellness Fellowship
Stanford University
@alvarezzzy
Amanda J. Deutsch, MD
Wellness Fellow, 2023
Clinical Instructor, EM
Stanford University
@amandajdeutsch
Overview
Emergency medicine is demanding - physically AND emotionally! EMRA*Cast host Lizzii Le, MD, sits down with two pioneers, Dr. Amanda Deutsch and Dr. aL'Ai Alvarez, to shine a light on the Stop the Stigma EM campaign and explain how we can start actively changing the culture around mental health in our practice.
TAKE-HOME POINTS
We don't have to suffer in our thoughts alone, create groups of peers to talk to!
Seeking help can often be hard. Finding a good therapist is a little bit like dating. Trial and error!
Cultural shift regarding mental health should be for the veteran docs and also for the new upcoming docs!
Burnout is a dynamic state. Just because you are burnout right now does not mean you will always be burnt out. It does not have to be like this!
Be robust, be resilient, and be mindful! (And be aware you don't have to do them all at the same time.)
#STOPTHE STIGMAEM
October is #STOPTHESTIGMAEM month, when EM organizations across the country will unite to foster education, awareness, advocacy, and policy action related to breaking down barriers to mental health care in EM.
EMRA will host EMRA Airway Stories on Wednesday, Oct. 11, in Philadelphia. This is a safe space to share the stresses, successes, and everything in between with your peers. Details will be posted at https://www.emra.org/be-involved/events--activities/acep.
MORE RESOURCES
Lorna Breen Heroes' Foundation is leading efforts to promote wellbeing and combat burnout among health care workers; this organization is funded in part by the Dr. Lorna Breen Health Care Provider Protection Act, and it honors an EM leader who died by suicide after shepherding colleagues through the trauma of being on the front lines of the pandemic.
988: This is the 3-digit emergency number for the Suicide & Crisis Lifeline, for anyone experiencing mental health crisis or seeking help for someone who is in crisis.