Do you know a rockstar who is making an impact - in big or small ways?
Someone who is quietly - or boldly - shaping the future of our specialty?
In 2019, in celebration of our 45th anniversary, EMRA launched its 45 Under 45 campaign to recognize 45 young emergency medicine physicians who are changing the world. This effort connected with our specialty in a meaningful way – so much so, we will continue this effort with our 25 Under 45 campaign.
EMRA continues to celebrate young influencers in emergency medicine who shape the future in communities, hospitals, and our specialty.
We want to celebrate them!
EMRA is looking for emergency physicians or physicians-in-training 45 years old* or younger who deserve recognition!
Maybe a researcher pushing the scientific bounds of our field?
An innovator working on the next breakthrough?
An operations guru or policy wonk pushing the bounds of our field?
An outstanding educator worthy of praise?
Or someone serving their community in meaningful ways?
Deadline is July 15
Nominate A Rock Star
*45 years old as of December 31, 2020


2019 EMRA's 45 Under 45: Influencers of EM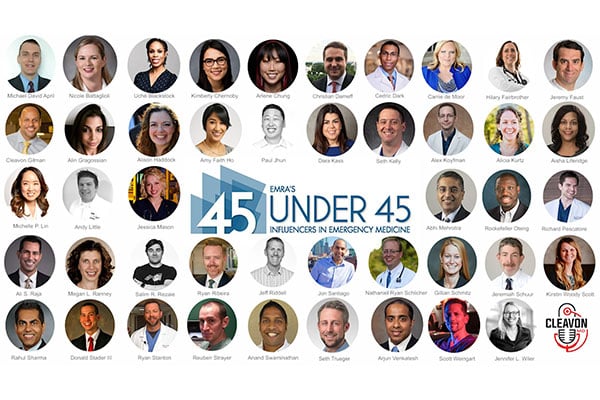 EMRA 45 Under 45! These Docs Are On The Rise
Check out this great RAP by Dr. Cleavon Gilman, third-year resident in emergency medicine at New York-Presbyterian Hospital.
"..they Advocate, Educate, and Innovate, shaping minds they combine as EMRAs 45 Under 45..."
Watch Now