Dr. Alicia Mikolaycik Kurtz, MD (@aliciakurtz_md) is an Emergency Physician and the Assistant Medical Director of the ED at Mercy San Juan Medical Center in Sacramento, CA. Alicia completed her Emergency Medicine residency at UCSF Fresno in central California, followed by a fellowship in Leadership & Administration with Vituity in the San Francisco bay area.
Alicia is devoted to caring for traditionally marginalized patients and has extensive national leadership and public speaking experience, including serving as EMRA President 2016-17. She is passionate about improving the culture of medicine by focusing on improving the provider experience – bringing empathy and humanity back to the bedside, working towards innovative operations improvements to make working in the ED a more enjoyable experience, and ensuring providers are up-to-date with the latest evidence based medicine complete with access to the tools they need to succeed in providing quality and timely patient care. Alicia is a dreamer, known for her ability to "re-imagine" and innovate -- whether it be modernizing and streamlining the work of the EMRA Board, overhauling the way her own group uses the EHR and completes their charting, implementing a new system-wide ALTO policy to elevate the quality of care provided to patients in the Dignity system in CA, creating "Real Talk" (a story telling experience that gives providers the opportunity to process the more human aspects of being a provider), or many other forward-thinking endeavors.
Alicia is known for her contagious energy, boundless passion, and ability to consistently include and inspire others. Outside of medicine, Alicia loves travel adventures, live music, trying new things, her amazingly supportive partner Marco, and all things Trader Joes.
EM Resident Articles and EMRA Publications
Over 400 applications were reviewed by the selection committee, comprised of Steven J. Stack, MD, MBA, FACEP, Zach Jarou, MD, Omar Z. Maniya, MD, MBA, Hannah Hughes, MD, MBA, Ven Subramanyam, MD, Erin Karl, MD, and Jazmyn Shaw.
The selection committee was blinded to EMRA and/or ACEP membership status. Care was taken to ensure both a diverse applicant pool and awardee group. For any questions, contact Cathey Wise at cwise@emra.org
Related Content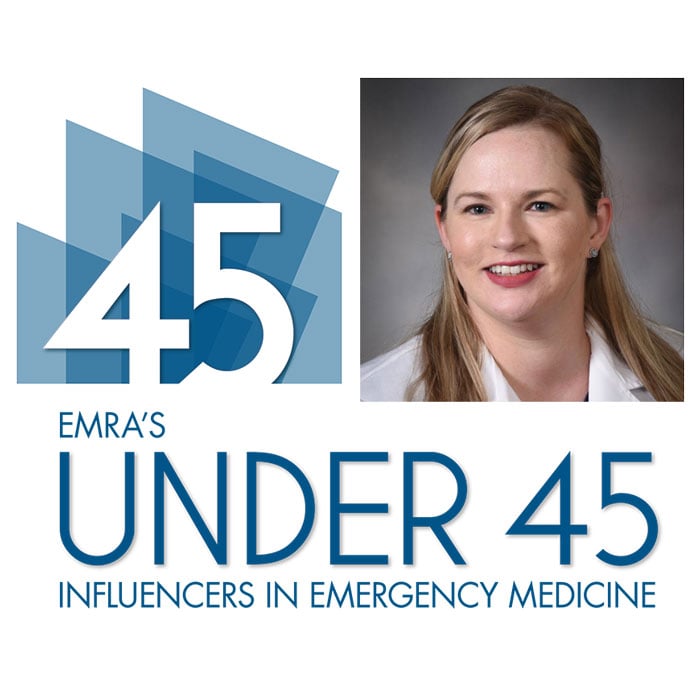 Aug 31, 2019
Nicole Battaglioli, MD, FAWM
As outgoing ALiEM Wellness Think Tank COO, Nicole Battaglioli has devoted considerable time and brainpower to defining and improving resident wellness. Along with being an Assistant Professor of Emergency Medicine, Dr. Battaglioli is the CEO/founder of Komorebi Coaching, lover of wilderness medicine, and promoter of super-sheroes.