Arlene Chung, MD, MACM, FACEP (@ArleneSujin) is the Residency Director at @Maimonides_EM, and the Chair of the ACEP Well-Being Committee. She also serves on the New York ACEP Board of Directors. She is the Editor-In-Chief of the EMRA Wellness Guide and has served as faculty for the EMRA Leadership Academy, EMRA Medical Student Symposium, and EMRA Health Policy Primer. As a nationally recognized speaker and educator, Dr. Chung has made advocating for physician wellness a central focus of her career though lectures, teaching, policy development, and creating sustainable solutions for the future.
Across multiple nominations, Dr. Chung was regarded as an influencer not only for her own accomplishments "but her ability to lift up those around her" with her "magnetic energy." She cares deeply about her residents, wellness in EM, and is thought of as a "role model for women in medicine". One nominator described Dr. Chung as "a gracious and charismatic person of integrity with an intellectual curiosity for the world around her." She has inspired colleagues, residents, and students to chase and attain their dream jobs, achieve wellness in everyday practice, and stimulate change to enhance the medical world.
EM Resident Articles and Publications
Over 400 applications were reviewed by the selection committee, comprised of Steven J. Stack, MD, MBA, FACEP, Zach Jarou, MD, Omar Z. Maniya, MD, MBA, Hannah Hughes, MD, MBA, Ven Subramanyam, MD, Erin Karl, MD, and Jazmyn Shaw.
The selection committee was blinded to EMRA and/or ACEP membership status. Care was taken to ensure both a diverse applicant pool and awardee group. For any questions, contact Cathey Wise at cwise@emra.org
Related Content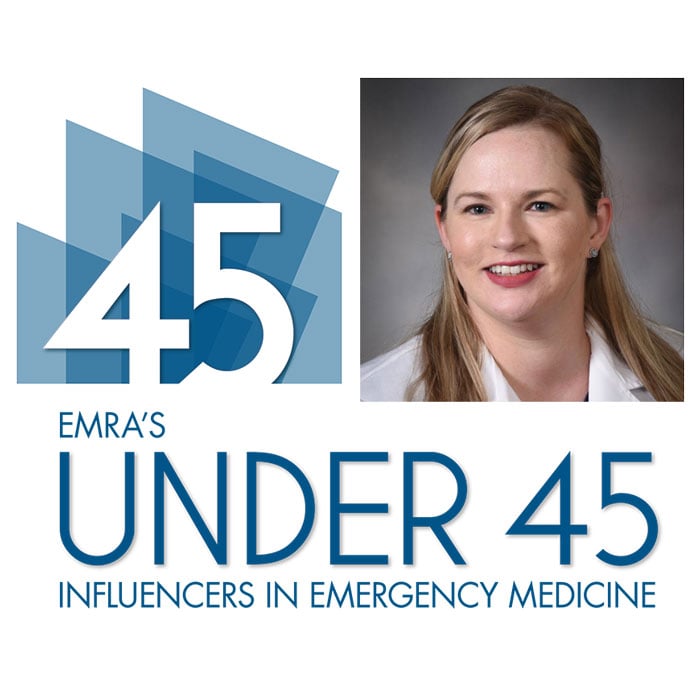 Aug 31, 2019
Nicole Battaglioli, MD, FAWM
As outgoing ALiEM Wellness Think Tank COO, Nicole Battaglioli has devoted considerable time and brainpower to defining and improving resident wellness. Along with being an Assistant Professor of Emergency Medicine, Dr. Battaglioli is the CEO/founder of Komorebi Coaching, lover of wilderness medicine, and promoter of super-sheroes.