Brief Project Background
For several years, the ACEP Public Affairs office in Washington, DC has hosted residents with an interest in healthcare policy and leadership. This experience has provided an opportunity for young physicians to refine their advocacy skills with hands-on experience on Capitol Hill. The development of a formal health policy mini-fellowship program is an extension of these efforts. EMRA and YPS members have requested the construction of an intensive, short-term policy curriculum that will provide meaningful advocacy exposure. A concise, well-structured program will augment current leadership efforts by professional societies like EMRA and ACEP to develop a cadre of energetic, educated physicians capable of pursuing an Emergency Medicine advocacy agenda on state and national levels.
Program Structure
The approved mini-fellowship provides a four-week in-person experience centered out of ACEP's Washington, D.C. office. Two fellows will be selected. Fellows will focus their efforts around custom learning objectives consistent with their specific pre-defined areas of interest (lobbying, policy, legislation, regulation, non-governmental organizations, etc). Fellows will be expected to present their work at a national conference and/or in other relevant emergency medicine publication venues. They will receive a midpoint evaluation and an overall evaluation at the conclusion of their experience by program faculty.
The fellowship will be guided by Laura Wooster, MPH, ACEP's Associate Executive Director of Public Affairs. The fellows will also be expected to work closely under with ACEP staff members at the Washington office. In addition, Dr. Janice Blanchard, MD, MPH. Phil will serve as a faculty mentor for the program. Dr. Blanchard is an assistant professor at the George Washington University's Department of Emergency Medicine and an adjunct faculty member of the GWU Department of Public Health. The curriculum delves into issues relating to health care access, financing, regulation, health care quality, disparities, public health protection, and critical fields of health care law.
Eligibility
EMRA Residents and Fellows and ACEP Young Physician Section members. Applicants must be less than 5 years out from their residency training.
The mini-fellowship program will select individuals with a history of leadership and with a clear commitment to health care advocacy.
Application Process
Candidates must also submit a formal letter of interest, curriculum vitae, two letters of recommendation, and a letter of support from a faculty sponsor at their home institution.
Selection Committee
The selection committee will review all applications and select candidates in early September. The committee will be comprised of staff members from the ACEP DC Office, the ACEP Young Physicians Section, the ACEP Board of Directors, and the EMRA Board of Directors.
Award
$2,000 travel stipend
Application Deadline
October 18, 2023
Suggested Reading Curriculum
Thomas Bodenheimer & Kevin Grumbach. Understanding Health Policy: A Clinical Approach, 4th edition, McGraw-Hill Medical, 2004.
Eugene Bardach. A Practical Guide for Policy Analysis, Seven Bridges Press, 2000.
Jim Mitchiner, MD - EMTALA Primer
For additional information, please contact the EMRA Director of Health Policy at healthpolicydir@emra.org
Apply Now
Past Recipients
2022
Ashley Brittain, MD
2021
Sophia Gorgens, MD
2020
Nishad Rahman, MD
2019
Sachin Santhakumar, MD
2018
Cameron Gettel, MD
2017
Bryn Dekosky, DO
Kayvon Izadpanah, MD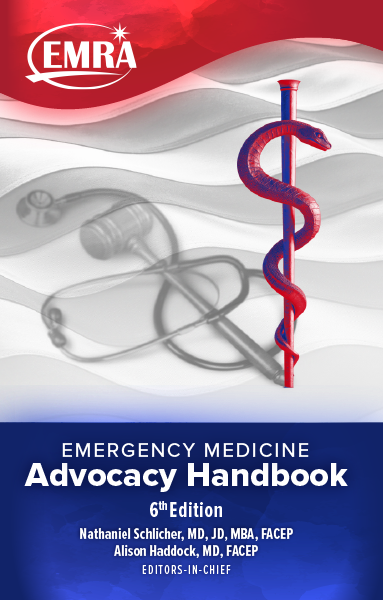 Published: April, 2023
Health policy plays a critical role in the success of every emergency physician. Be an informed, active advocate for yourself and your patients! EMRA's Emergency Medicine Advocacy Handbook, 6th ed., will give you the knowledge and context you need to discuss the policy issues affecting the way you practice medicine. Produced with the help of an educational grant from US Acute Care Solutions, this book offers a clear path to becoming a savvy advocate.
Download Now

pdf 4.42 MB

Read Online Now