Overview
Due to COVID19 travel restrictions, this award is currently not accepting applications.
This award is not available for the summer awards cycle.

The EMRA / ACEP Congressional Fellowship is a month long full-time experience working as a contributing member of a Congressional Office on Capitol Hill. Fellows will gain a first-hand understanding of the legislative and policy process. The experience will provide Fellows with the real-world skills and knowledge that will further their development as a leader in health policy and an advocate for emergency medicine.
Under the discretion of the supervision of the Congressional Office office, Fellows work typically includes:
Help develop legislative or regulatory proposals
Recommendations on committee votes
Attend Congressional hearings and briefings around D.C.
Meet and field calls from constituents
Conduct research and brief legislators on a range of health issues
Fellows are asked to prepare a presentation and policy brief on a health policy issue with which they have been engaged for publication on EM Resident and the EMRA.org website.
Independent Learning Material
Fellowship assignments are supplemented by access to a selection of presentations on contemporary federal policy topics and the acute care health policy landscape. A recommended reading list: Emergency Medicine Advocacy Handbook; Understanding Health Policy 7th edition; KFF Policy Briefs
Additional selections of hand-picked health policy lectures on virtual ACEP"
Application Process
Due to COVID19 travel restrictions, this award is currently not accepting applications.
Candidates must also submit a formal letter of interest, curriculum vitae, one letter of recommendation, and a letter of support from their program director in support of their application and confirm the resident is in good standing and able to take the time off.
Eligibility
Emergency Medicine residents or fellows who are committed to improving health care policy and practice. Successful candidates will demonstrate exceptional personal and intellectual qualities, a record of interest and achievement in policy issues, and significant potential to influence health policy.
All applicants must also meet the following criteria:
Be a second to fourth year resident, or fellow and member of EMRA
Have a demonstrated interest in health policy issues and track record of research, policy analysis, health services, or leadership
Selection Criteria
The EMRA Awards committee will evaluate and select a candidate. The selection will be forward to an interested Congressional Office on Capital Hill for final review. Selections will be made based on:
Previous policy experience and achievements
Potential for leadership in health policy
Potential for future growth and career advancement
Interpersonal and communications skills
Individual plans for incorporating the fellowship experience into specific career goals.
The Ideal Candidate
Working on Capitol Hill means being ready for a fast-paced and often quickly changing legislative and political environment. Because of this setting, ideal candidates will be flexible, team players, and able to complete tasks on quick deadlines. With the variability that a work day can bring, candidates who are self-starters, adept at networking and have a positive, humble attitude will maximize the opportunities that exist on the Hill and the value of the Fellowship experience.
Award
$2,000 travel stipend
Award Date
Fall Meeting 2021
Date of Inception
2018
Due to COVID19 travel restrictions, this award is currently not accepting applications.
Past Recipients
2020
Owais Durrani, MD
2019
RJ Sontag, MD
Gururaj Shan, MD
2018
Akash Shah, MD, MBA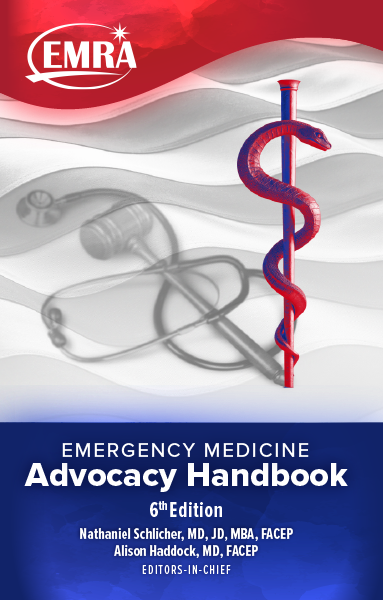 Published: April, 2023
Health policy plays a critical role in the success of every emergency physician. Be an informed, active advocate for yourself and your patients! EMRA's Emergency Medicine Advocacy Handbook, 6th ed., will give you the knowledge and context you need to discuss the policy issues affecting the way you practice medicine. Produced with the help of an educational grant from US Acute Care Solutions, this book offers a clear path to becoming a savvy advocate.
Download Now

pdf 4.42 MB

Read Online Now