Megan Ranney, MD, MPH, FACEP (@meganranney) is an associate professor in the Department of Emergency Medicine at Alpert Medical School of Brown University and founding director of the Brown Emergency Digital Health Innovation program (www.brownedhi.org). Dr. Ranney's career focus is on developing, testing, and disseminating digital health interventions to reduce risk of violence and mental illness. She currently has 9 active federally funded grants and over 100 peer-reviewed publications. She holds numerous national positions, including serving as an elected member of the board of the Society for Academic Emergency Medicine, chair of her Governor's Working Group for Gun Safety, and editor for Annals of Emergency Medicine.
Dr. Ranney is also Chief Research Officer of AFFIRM (www.affirmresearch.org), the country's only non-profit committed to ending the gun violence epidemic through a public health approach. She has received numerous awards for technology innovation, public health, and research, including Rhode Island Woman Physician of the Year and the American College of Emergency Physicians' Policy Pioneer Award and Spokesperson of the Year Award. She is a Fellow of the fifth class of the Health Innovators Fellowship Program and a member of the Aspen Global Leadership Network. She earned her bachelor's degree in History of Science, graduating summa cum laude, from Harvard University; her medical doctorate, graduating Alpha Omega Alpha, from Columbia University; and her master's in public health from Brown University. She was previously a Peace Corps Volunteer in Cote d'Ivoire.
She lives in Rhode Island with her husband and two children.
Over 400 applications were reviewed by the selection committee, comprised of Steven J. Stack, MD, MBA, FACEP, Zach Jarou, MD, Omar Z. Maniya, MD, MBA, Hannah Hughes, MD, MBA, Ven Subramanyam, MD, Erin Karl, MD, and Jazmyn Shaw.
The selection committee was blinded to EMRA and/or ACEP membership status. Care was taken to ensure both a diverse applicant pool and awardee group. For any questions, contact Cathey Wise at cwise@emra.org
Related Content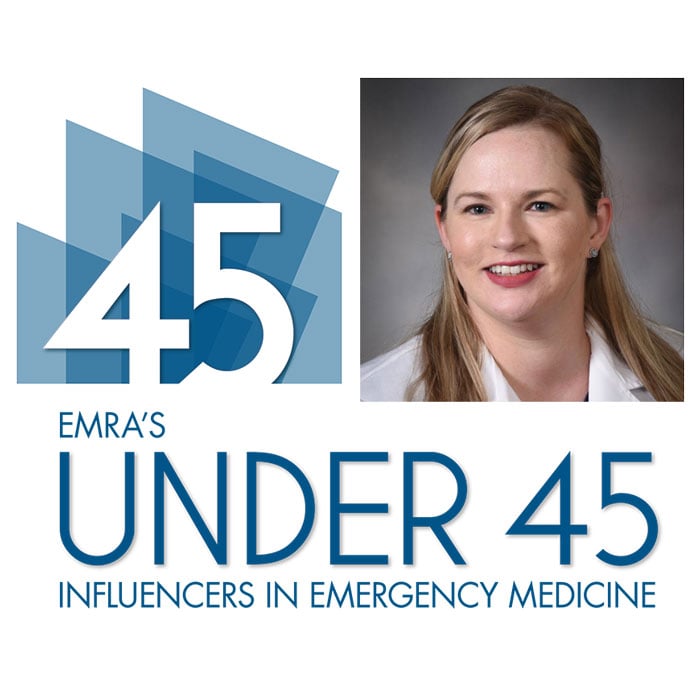 Aug 31, 2019
Nicole Battaglioli, MD, FAWM
As outgoing ALiEM Wellness Think Tank COO, Nicole Battaglioli has devoted considerable time and brainpower to defining and improving resident wellness. Along with being an Assistant Professor of Emergency Medicine, Dr. Battaglioli is the CEO/founder of Komorebi Coaching, lover of wilderness medicine, and promoter of super-sheroes.