2021 EMRA MedWAR
Where: Blue Hills Reservation

When: Thursday, October 28th
2021 MedWAR Teams
| | |
| --- | --- |
| Team Name | Program |
| Status BAFERDicus | Albany Medical Center |
| CroFaboulus | Mount Sinai Medical Center Miami Beach |
| Lakeland EM | Spectrum Health Lakeland |
| Fear the Stache | Stanford University |
| Wreck' EM Tech | Texas Tech Health Science Center Lubbock |
| Lobby Medicine | UCF/ Osceola Regional Medical Center |
| Alamo City EM | UT Health - San Antonio |
| Ferel Crows | Mayo CLinic |
| MedRicans | University of Puerto Rico Emergency Medicine |
| Vacationlanders | Albany Medical Center/Brown University |
EMRA MedWar at ACEP21
Thursday, October 28
QUESTIONS?
What is MedWAR?
EMRA's MedWAR (Medical Wilderness Adventure Race) combines wilderness medicine with adventure racing to create a unique event designed to teach and test wilderness survival and medical skills. This event provides residents and medical students an opportunity for hands-on wilderness medicine experience. The best way to learn wilderness medicine is to get outside and practice. Participants are challenged to use their broad knowledge of wilderness medicine to handle a series of potential medical emergencies. Do you have what it takes to compete?
Who Can Be On a Team?
Each team must be comprised of three team members. All team members must be a paid EMRA member - medical student, resident or fellow. The fee for participation is $150 per team member. Fees include commemorative t-shirt; post-race meal; a lifetime of memories and unique medical training.
How Do We Sign Up?
Sign-up is currently closed for MedWAR 2021. Look back here to sign up next year for the event.
A lottery will be held during the first week of August 2021. The 12 winning teams will be notified by email and will be required to confirm their participation within 72 hours of notification. If a team does NOT confirm, they forfeit their spot and another team will be selected through a lottery.
What Do Teams Bring?
Each team member must pack his/her backpack with food, water, and medical supplies anticipated for the competition. A list of required equipment will be sent to selected teams after the lottery drawing.
What Does EMRA Provide?
EMRA provides transportation to and from the event. Bus picks up competitors/volunteers at the primary hotel. EMRA also provides snacks and a post-event meal.
Do I Need To Have Previous Wilderness Medicine or Adventure Racing Experience?
Absolutely not! Just remember the course is usually 8-12 miles in distance and the race lasts up to 7 hours. How fast you move about the course is up to you but be prepared for a days worth of physical exertion, in all kinds of weather and topography. You will be exhausted once the race is over. But there will be pizza and beer at the finish line.
Can I Just Be a Volunteer?
Of course! We always need helping hands to create the best race possible for the participants. Registration for volunteering has closed for MedWAR 2021. Please check back for volunteer opportunities at MedWAR 2022.
More Questions?

If you still have questions, just email Heather
Related Content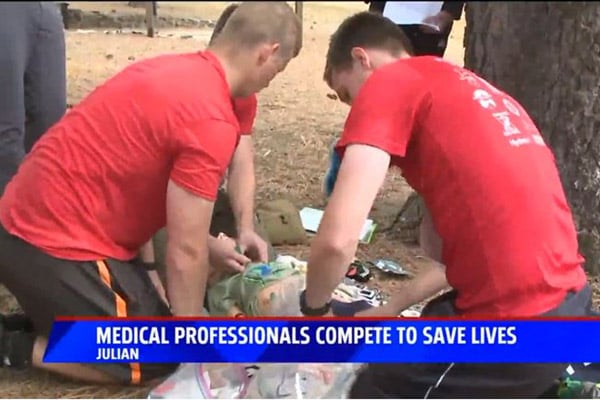 Oct 24, 2020
Pick Your Favorite Team
Dear EMRA Wilderness Fans! Wilderness Olympics are fast approaching and our competing teams have submitted their team photos in preparation for the live event taking place next week, October 28 at 5pm CST. Vote on your favorite team photo and tell all your EMRA friends (your fellow residents, medical students and alumni members!) to do the same. Voting closes October 27 at midnight! Look forward to seeing you all at Wilderness Olympics, so don't forget to register for ACEP 2020 EMRA events (it's free!).