EMRA MedWAR at ACEP23
Thursday, October 12, 2023
EMRA's MedWAR (Medical Wilderness Adventure Race) is a unique event designed to teach and test wilderness survival and medical skills. This event provides residents and medical students an opportunity for hands-on wilderness medicine experience. The best way to learn wilderness medicine is to get outside and practice. Participants are challenged to use their broad knowledge of wilderness medicine to handle a series of potential medical emergencies. Do you have what it takes to compete?
QUESTIONS?
Who Can Be On a Team?
Each team must be composed of three team members. All team members must be a paid EMRA member - medical student, resident, or fellow. The fee for participation is $150 per team member. Fees include commemorative t-shirt, post-race meal, a lifetime of memories, and unique medical training.
How Do We Sign Up?
Each team must COMPLETE THIS FORM to apply for participation in EMRA MedWar.
Selection process for this year - teams will be selected based on first-come, first-served application process and be confirmed around the first week of August 2023. The first 15 teams will be notified by email and will be required to confirm their participation within 72 hours of notification. If a team does NOT confirm, they forfeit their spot and another team will be selected through a lottery.
What Do Teams Bring?
Each team member must pack his/her backpack with food, water, and medical supplies anticipated for the competition. A list of required equipment will be sent to selected teams after the lottery drawing.
What Does EMRA Provide?
EMRA provides transportation to and from the event. Bus picks up competitors/volunteers at the Marriott Marquis hotel. EMRA also provides snacks and a post-event meal.
Do I Need To Have Previous Wilderness Medicine or Adventure Racing Experience?
Absolutely not! Just remember the course is usually 8-12 miles in distance and the race lasts up to 7 hours. How fast you move about the course is up to you but be prepared for a days worth of physical exertion, in all kinds of weather and topography. You will be exhausted once the race is over. But there will be food and beverages at the finish line.
Can I Just Be a Volunteer?
Of course! We always need helping hands to create the best race possible for the participants. If you are interested in volunteering and are an EMRA member, please complete this form.
More Questions?

If you still have questions, just email Heather
Congratulations to our 2022 MedWAR champion
Stanford Emergency Medicine!
All teams finished the course, and final times were calculated on actual race time along with credit for accurately answering questions and managing scenarios.
Thanks to all our competitors, our volunteers, and our Wilderness Committee leaders who made the day a success!
2022 MedWAR Teams
| | |
| --- | --- |
| Team Name | Program |
| Receptaculum Ignis | Albany Medical Center |
| Miles of Smiles | Rutgers RWJMS |
| Dumpster Firefighters | UT Health San Antonio |
| The Donner Party | Spectrum Health Lakeland |
| TriWilderness Champions | MedStar Georgetown-Washington Hospital Center |
| Running Out of Patients | Good Samaritan Hospital Medical Center |
| Resuscitationists in Practice | EMRA MSC |
| Husky Hunks | UCONN |
| Turkey Sandwich Titans | Riverside Community Hospital/University of California, Riverside |
| Cox Inhibitors | Emory University School of Medicine |
| Stanford EM | Stanford |
| Night Shift Nasty | Florida State University / Sarasota Memorial Hospital |
| City Slickers | NYMC MetHarlem Program |
Related Content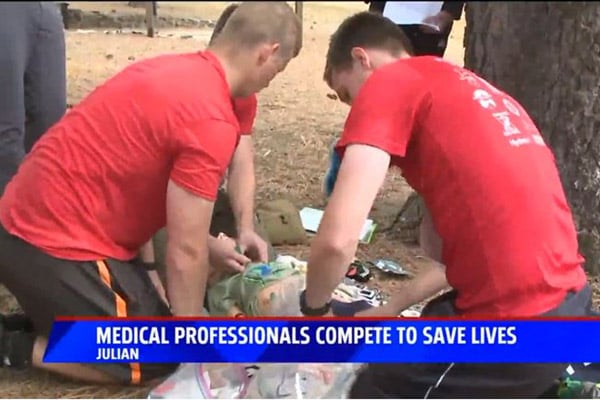 Oct 24, 2020
Pick Your Favorite Team
Dear EMRA Wilderness Fans! Wilderness Olympics are fast approaching and our competing teams have submitted their team photos in preparation for the live event taking place next week, October 28 at 5pm CST. Vote on your favorite team photo and tell all your EMRA friends (your fellow residents, medical students and alumni members!) to do the same. Voting closes October 27 at midnight! Look forward to seeing you all at Wilderness Olympics, so don't forget to register for ACEP 2020 EMRA events (it's free!).