Informatics Leaders
NLM Biomedical Informatics Research Training Programs
The U.S. National Library of Medicine currently recognizes 16 biomedical informatics training programs. These programs offer graduate education and postdoctoral research experiences in a wide range of areas including: health care informatics, translational bioinformatics, clinical research informatics, and public health informatics.
Learn More
Medical Informatics Organizations
American Medical Informatics Association
AMIA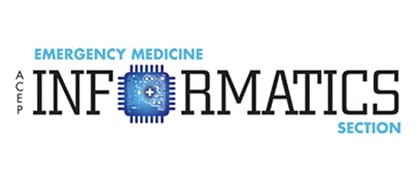 As a resident, you get joint memberships in both EMRA and ACEP - so make sure you're aware and informed of what the ACEP Informatics Section is doing!
When you set up your EMRA/ACEP membership, you get (2) section memberships for free - one to the ACEP Young Physician Section, and one of your choice. Why not make that choice Informatics?
Additional ACEP section fees are half off - only $20
Learn More
EMRA Fellowship Guide
Chapter 12 Informatics Fellowship
The Accrediting Council for Graduate Medical Education (ACGME) defines this fellowship as "the subspecialty of all medical specialties that transforms health care by analyzing, designing, implementing, and evaluating information and communication systems to improve patient care, enhance access to care, advance individual and population health outcomes, and strengthen the clinicianpatient relationship."
Go to Chapter 12
Additional External Informatics Articles